Welcome.
...... to The Butterfly Bowling Club, an art project created by visual artist Paul Forrest and all made in Wellington, New Zealand. Here's your opportunity to be a part of a giant butterfly kaleidoscope spreading all over New Zealand. Create a kaleidoscope of butterflies and moths in your own home, garden or anywhere you want.These beautiful original artworks come in different sizes and varieties and are an investment that will last a lifetime.
They're made out of painted weatherproof laser cut aluminium and stainless steel and fully protected from the elements so they can go indoors or outdoors. I've carefully followed nature's blueprint to make these magical creatures look very realistic yet unique and hand painted so they're captivating up close or when seen at a distance.
Designed, painted, printed then individually hand painted butterflies and moths by artist Paul Forrest in Newtown, Wellington, New Zealand www.paulforrest.co.nz
Made for indoors, outdoors, gardens, houses, bathrooms, bedrooms, literally anywhere.
Safe and secure
Easy to install with written instructions provided. All you need to do is follow the steps.
Completely windproof, waterproof and sun protected to last a lifetime.
Signed and dated by the artist
Created on powdercoated laser cut 2 and 3mm aluminium
With acrylic paint and printers ink on Etch Prime
Sprayed and baked clear coat varnish and UV filtering varnish to fully protect the artwork from the sun
With....
Free delivery and installation by request in the Wellington region
Professionally packaged for postage and courier elsewhere in New Zealand and internationally
P&P $25-$80 additional within New Zealand depending on size and location for courier with tracking and insurance. International delivery cost depends on location
.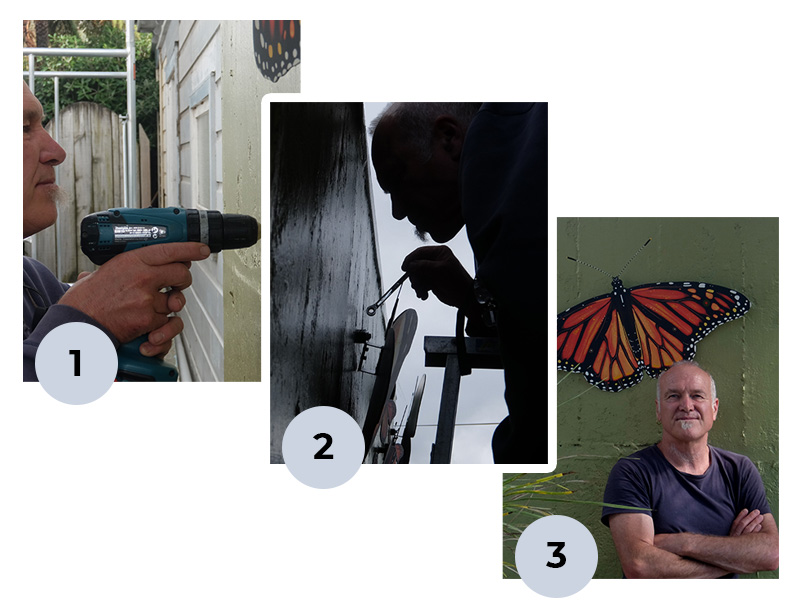 Installation instructions:  The purpose built mounting system allows for the butterfly to sit at an angle so it creates a shadow for a more enhanced 3D effect. It attaches securely to concrete, wood, plasterboard, trees, fences, or anything solid.
Just mark where you want to put it and drill a hole
Screw the mounting system behind the butterfly into the wall or where ever you want to be able to experience seeing it . Locking tools and instructions provided.
Then sit back and enjoy seeing what this flying artwork has to offer your viewing pleasure within your living environment.
When the installation instructions are clearly followed your butterfly is totally secure through any stormy weather and will last a lifetime. The mounting system has been fully tested in all weather conditons over several years...plus they don't fade in the sun. Ask anyone whose bought one. This collection of butterflies and moths are flying to houses and buildings all over New Zealand now. You'll know it's a Paul Forrest when you see the attention to detail and colour that will last a lifetime.